Adding descriptive metadata to your digital images
This guide will show you how to add extra, hidden information, such as descriptions and tags, to your digital images.
Why add descriptive metadata?
Embedding metadata in a digital photo is like writing a description or date on the back of a physical copy. The information stays with the photo wherever it ends up, and, just as you have to turn over a physical photo to reveal the information, metadata embedded in your digital file stays hidden unless you want to see it.
Digital and smartphone cameras automatically embed some technical metadata into each file, such as the date and time the photo was created. Adding extra information makes it easier to organise and search your images and improves the overall accessibility of your collection.
Access the image's metadata
Because image metadata is hidden, the first thing you need to do is open it. Locate the image you want to edit and:
if you are using a Mac, right-click on the image and select "Get Info".
If you are using a PC, right-click the image and select "Properties", then select the "details" tab.
Once you have the window open, you will see areas to add tags and descriptions/comments.
Add keywords
Keywords note the essential facts about the picture and help you to organise and search your files. Try to use simple, descriptive words and be consistent. When coming up with keywords, think about what you would search for if you were looking for the image. How many keywords you use is up to you, but try to add more than 3, separated by a comma. The keywords you use depend on the contents of your image, but may include things like: animal, blue sky, dancing, guitar, etc. You may also wish to include information like the name of a venue, band or photographer.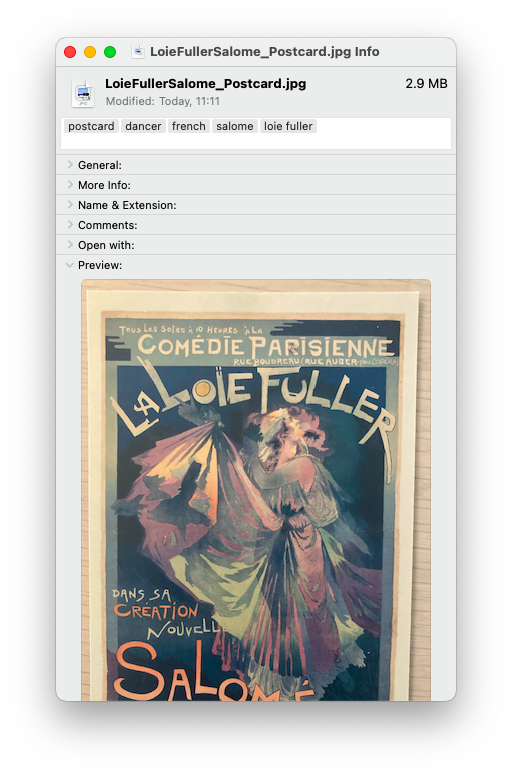 Add a description
Think of the description as what you would write on the back of a printed photo. This can include as much or as little information as you like, including names of people, places and things, description of the look, feel and contents of the image, copyright details, quotations, and even links to relevant URLs.
If you've digitised an image that had a physical description written on it, you can transcribe that description too. If you do this, make sure you indicate where and who the description came from and put it in inverted commas (to indicate it is a verbatim quotation). This is particularly important if the physical description contains language we now know to be inappropriate or offensive (such as historical terms relating to race or sexuality) – always note this and indicate the context in which the description was created.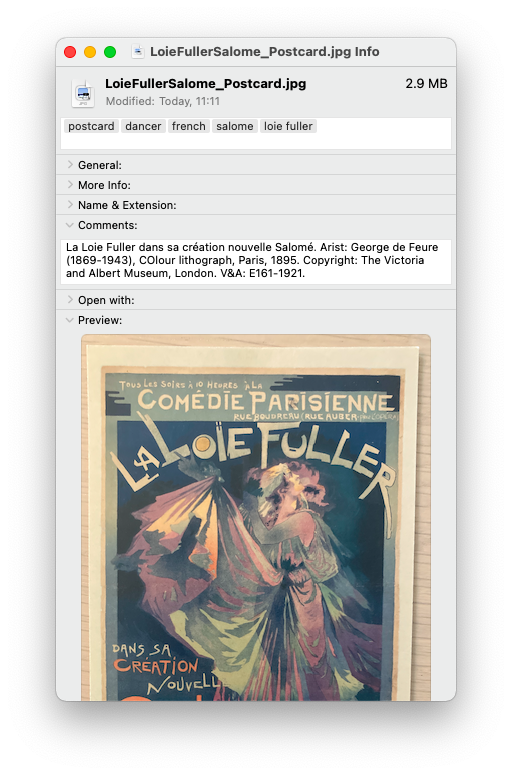 Further Resources
The Society of American Archivists, Describing Archives: A Content Standard 
The National Archives, Digital Archiving: The Seven Pillars of Metadata
Anti-Racist Description Working Group (Archives for Black Lives in Philadelphia), Anti-Racist Description Resources
Centre For Digital Archeology, Best Practices and Tools to Create Archival Image Metadata